Nakeisha Richards and Ade Nyenator December 2022
Nakeisha Richards- Hourly Aide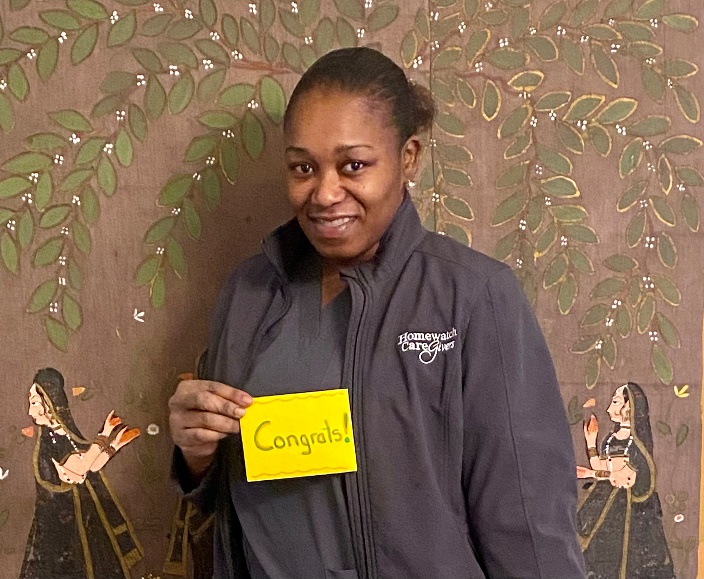 Nakeisha Richards has been a home health aide for about 14 years. She has been with Homewatch CareGivers for almost seven years. "I've had cases with clients suffering from diabetes, dementia, and now with Alzheimer's," she explained. "I've been with my present client for three years and I work with the client's family members as well." Nakeisha has worked in Millburn, Summit, Short Hills, and West Orange. She has also done some fill in work, when necessary, in addition to working with her permanent clients. Nakeisha was referred to Homewatch CareGivers by a friend who worked for the agency.
Born in Kingston, Jamaica, and raised by her mother, father and grandmother, Nakeisha came to the US at the age of 14. Her family came to NJ because they had relatives here, but her parents ended up moving south to Georgia where Nakeisha lived for a few years. She worked as a cashier while attending school to be a medical assistant and later finished online classes for medical billing. Nakeisha and her family returned to NJ for a faster paced life. She now has three children, aged 19, 17, and 11, so it is a busy household.
Nakeisha likes her work in part because she enjoys multi-tasking and getting things done. She has a systematic way of doing things and feels successful in what she does. "I love working with people in general and especially elderly people," she mentioned. "That's because of what I went through with my grandmother who passed away a few years ago. Now when I see my mother caring for my stepdad who has Alzheimer's and is receiving hospice care, this kind of work is very personal. My mom does the same type of work, and my sisters work in hospitals. This is my inspiration."
The wellbeing of her clients is Nakeisha's priority which includes helping her client's family stay well and strong. During the earlier Covid months, Nakeisha said she stayed in and encouraged her clients to do the same, as she wanted to keep her clients and family safe.
Nakeisha attributes her success to her attitude of persistence and staying strong. She values her interaction with her clients. She says, "I interact with my clients. I like to talk with them, and I speak soft and easy. I try to stay gentle but firm when necessary. I want to tell other caregivers to be strong, stay healthy and keep your mind in the game."
In her free time, Nakeisha likes to travel. Additionally, on her nights off, she likes to spend time with her kids and have movie nights together. She also likes to rest to keep up her strength and stay healthy.
Ade Nyenator- Live-In Aide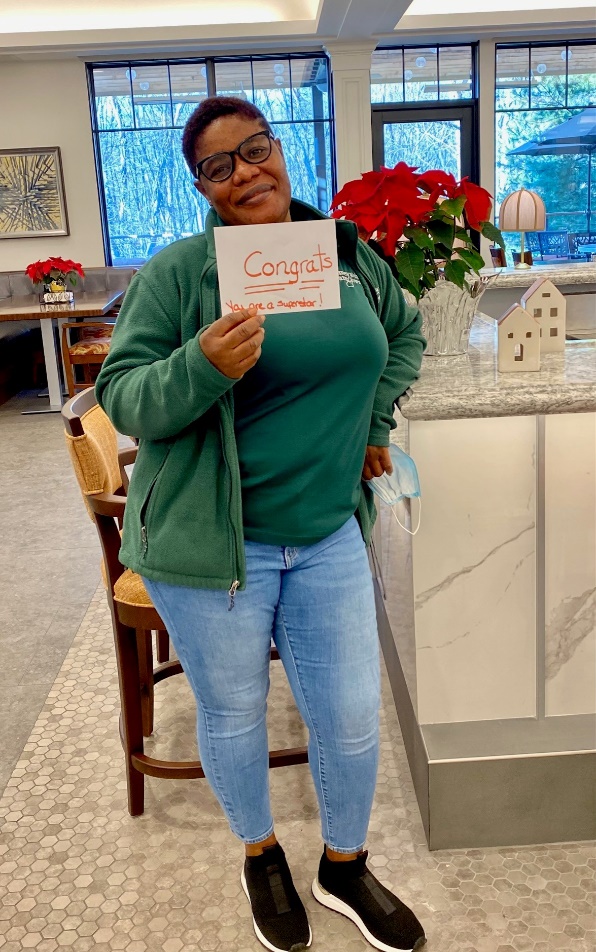 Ade was thrilled to be selected as live-in caregiver of the month. Ade made her home in NJ because her father, sisters and brothers are here. She has twin daughters; Shannel who wants to be a nurse, and Shantel who is a flight attendant. Her younger daughter works at Saint Barnabas as a nursing assistant and wants to become a nurse. "I am so proud of them," she said. "They are my life." In her free time, Ade loves to cook different types of American and African food. "Being in the kitchen makes me happy and I like to cook for others," she commented. "I also love spending time visiting with my mom and daughters."
What stands out when speaking to Ade about her work as a CHHA is that she very much becomes part of the client's family, in regards to how she feels about them and how they feel about her. Ade has been a caregiver for almost 12 years. She explains, "I love to be with people. It makes me feel happy. I just love to help people." Ade is still in contact with the children of her previous clients. The families appreciate the compassionate care Ade provided to their loved ones. She has been with Homewatch CareGivers since 2018. Her clients have included people who are wheelchair bound, living with dementia or congestive heart failure and more. Over the past few years, she has worked with clients in Livingston, Whippany, and West Caldwell, staying with each of them for at least a year. Ade explained that she has enjoyed her time with Homewatch saying, "Homewatch CareGivers is a great agency. They look out for their caregivers and give lots of benefits that other agencies don't have. They find compatible caregivers and clients. Insurance is very important and PTO is very important. They provide both. Homewatch is great and I would recommend them to anybody."
Ade attributes her love for caregiving to her own family experience. "When I was in Africa, I used to take care of children and when I saw my dad who was in a wheelchair and had caregivers, it gave me a reason to want to love and take care of people who need help," she stated. Ade feels like she needs to understand her clients to do her job well, so that's what she does. "I listen to my clients when they are down. I try to understand what is happening to them. I also pay attention when they are happy. I always keep the image of them being happy in the back of my head, so I can use it to help them when they are not. I come up with ideas to help them be happy. I let them know that I am there for them. Since I live with my clients, we build our relationship and become like family," Ade shared. "Sometimes the job is tough, and we need to be patient. We need to look at our clients as our family members. You can make a difference in your client's life, and you can find the things that make your client happy. When you do that, it is good for your client's wellbeing, and it will be easier for you too. Every job comes with its trials. You are the one who shapes the job how you would like it to be."
Ade's compassion for her clients, the way she strives to interact as a client's family member would, and her general philosophy about work, lead her to do a good job. "While some might look at caregiving as a job, I see it as my reputation and that means a lot to me," she said. "It takes years to build a reputation and I do my job with that in mind every day."