Kafilat "Bola" Ogunsola – Hourly Caregiver of the Month – September 2022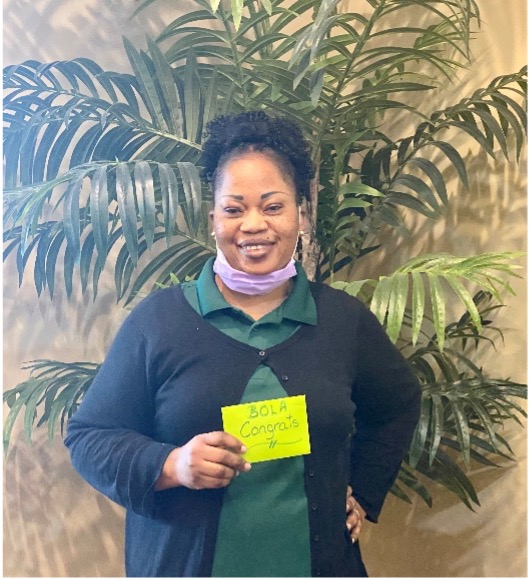 Kafilat was formally her Islamic name. Her name was changed to her Christian name, Bola, which was her maiden name. Bola was given that name because she brought wealth to her family when she was born in Nigeria. Bola came to the US in August 2001 while pregnant.  She came alone at that time because she won the visa lottery, so her family supported that she come here. Her husband joined her years later. It was a scary time coming right before the attacks of 9/11. Though Bola didn't have family here, she had friends. While she started her life in the US in Atlanta, GA, Bola made NJ her home. 

In Nigeria, Bola had finished economics studies at the university, but then added computer science studies at a diplomat school on weekends. She was able to work at her church helping with computer needs as well.

At first, Bola worked in daycare with young children, and she loved the job. "I love working and taking care of people, to assist people. My mom said that was true about me from the time I was very young."  After working with children for a few years, she told her aunt that she liked working with people in need. Bola then spent years working in a group home.

In 2006 Bola got her CHHA license and began working in the field.  She explained, "In 2019 I was looking for work online and found Homewatch CareGivers. I began to work with the agency and love being part of it because they appreciate you as a person and what you do.  They get to know you.  We are like family to them and that is why I will stay here."

Bola has had cases in Livingston, Maplewood, West Orange, working overnights, with dementia clients, and those with physical needs. She gets attached to her clients. I stay with the people I care for and when others see me with my clients, they think I am family because of how we interact.

"It is important for me to get to know my clients; to understand them and to bond with them.  When I am connected with them, I love what I do. I love my present client.  What helps me to be successful is that I don't sit down before I do my job and I always try to do my best. When working with my client, I also interact with the other staff. When I need to leave my client, I want the other staff to know how to take care of him the best way, so I share whatever I can. I want the best for him.  What I w want to share with other caregivers is whatever case you accept; you have to love what you do.  You must love who you are working with and what you are doing.  Then you will succeed." I would tell my fellow aides that "Someone is always looking at you.  I believe in God, and I believe that I should do good, and I will reap good.  Do your work diligently, with your mind and with love.  Then people will appreciate what you do." 

Bola shared that her son is now studying PT at Felicia University. In her free time, Bola loves to relax and watch TV.  She relaxes her head and her body.  She enjoys TV as long as there is no violence. That is how she finds calm in her life.