March 2023 CareGivers of The Month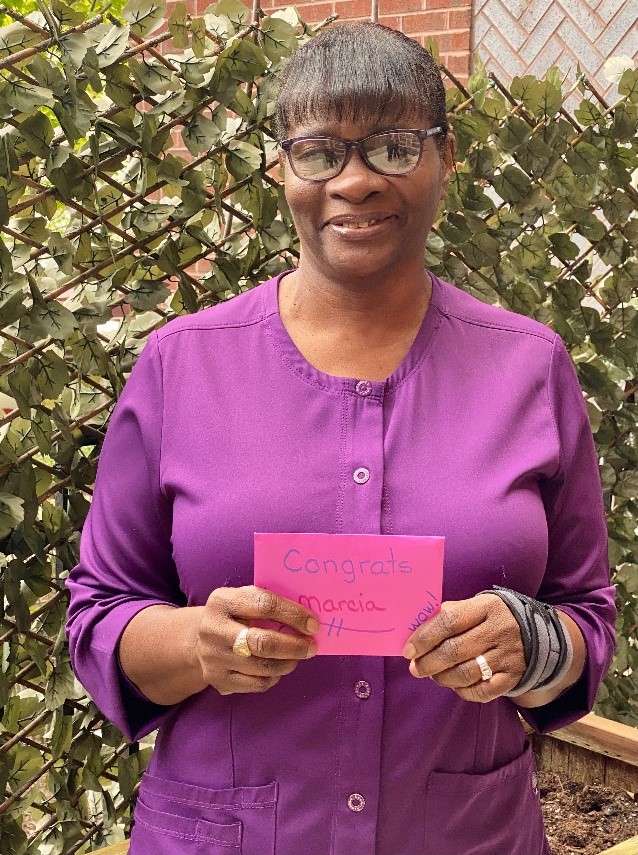 Marcia Ankle – Live-In Caregiver of the Month
In 2016, Marcia got her CHHA license. The school's principal told her about Homewatch CareGivers. She came to the office and was interviewed, and hired immediately. Since 2017, Marcia had worked with several clients; some with dementia, two who were homebound. She explained that she encountered some challenges but was always able to overcome them. "I have to think out of the box all the time, to have my thinking cap on for my present client, to come up with quick responses to make things work well," she said. Marcia employs techniques she learned when she worked in education to help her connect with her client. "Communication lines have to be open all the time to be effective with my client. I wait for opportune times to make things work and over time our relationship has mellowed. When dementia set in, I needed to use new strategies and to be even more creative." Marcia loves working with people and helping them, especially the elderly. She explained, "I didn't get the chance to look after my mom because she died ten years ago, so I take care of my client as I would have taken care of my mom."
Marcia describes herself as a patient, empathetic and sympathetic person. The support she receives from her client's family makes her work much easier. "They are adorable, respectful and appreciate what I do for their loved one. That motivates me even more. I am their mediator and stabilizing force to keep things calm."
Marcia was born on the "beautiful island of Jamaica." When she was growing up, teaching, and nursing were the two careers on her mind.
She had a very fruitful and full career in education. In 1982, she began teaching general subjects, math, language, and social studies, to children ages 6-15 years and later became a senior teacher. She obtained her master's degree in education and became a school principal. In 2014, Marcia was awarded the Jamaica Teachers Association Golden Torch Award for 35 years of dedicated service to education. In 2019, she received the Prime Minister's Medal of Appreciation for Service to Education.
Marcia explained that she traveled back and forth between the United States and Jamaica frequently. "I had been coming back and forth since 2012 since my husband of 32 years is a high school principal in Jamaica. Finally in 2016 I decided to take early retirement to stay in NJ."
Marcia has a daughter in Boston and a son living in NJ. She is also a grandmother.
In her free time, Marcia likes to unwind and relax. Her mother-in-law lives nearby so she spends time with her. "It is my duty to help her in whatever way I can," she stated. "I also attend online services with a non-denominational church in West Palm Beach, FL and in Clarendon, Jamaica. I listen to choruses and songs, read my bible, and catch up with my husband and family. I am not a person to go out on the town. It's not in my DNA."
Marcia's inspiration comes "from being a Christian, full of scriptures and Christ, which strengthens me daily to be humble and be true to my calling. I pray in the morning and at night and say silent prayers throughout the day."
Marcia shared the following message about caregiving, "The work we do can be stressful and demanding, but we need to look within ourselves and think positively. Make sure this job is right for you. It is not easy, but you can affect and impact lives. I feel I am doing that."
When asked how she feels about working with Homewatch CareGivers, Marcia says, "The staff, I love them, I have nothing but commendation for them. They are caring, respectful, I could go on and on."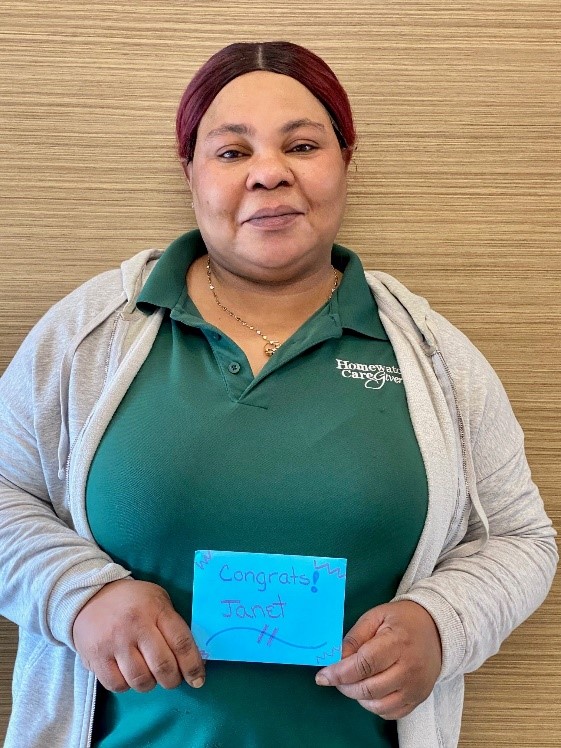 Janet Palmer Roulston – Hourly Caregiver of the Month
In her home country of Jamaica, Janet was a nurse at the Parish Memorial Hospital and was involved in maternity and general care. Janet also worked as a cashier but caregiving was her passion. She cared for one of her granddads in Jamaica where it is tradition to keep loved ones at home. "That's where my love of caregiving comes from," she explained. "Also, from my faith and my Jamaican background; they led me to become a caregiver and take care of the elderly. My real passion had been to become a pathologist. I always wanted to know where illness or symptoms come from, but because of financial reasons, I could not do that. I decided to become a CHHA, knowing that here in the US I would have to go back to school to start all over. Basically, I've been a caregiver since 2000."

Janet's parents came to NJ before she lived here. She wanted to be close to them, so she came to the US in 2016 with her children. Her husband stayed in Jamaica since they have a home there. Janet hasn't been back there for a long time but is planning to visit in December.

A friend told her about Homewatch CareGivers and she has been with the agency since 2019. She worked as a live-in caregiver with the same client for almost a year. She has worked in South Orange, West Orange, West Caldwell, Livingston, and Whippany. She has cared for people living with dementia, Alzheimer's and Parkinson's. Janet worked through the beginning of Covid and took her responsibility to keep herself, her clients, and her family members safe, very seriously. She explained, "I tried my best to do everything to monitor my family and my clients to keep them comfortable and safe. We would pray together and make sure everyone was healthy. My client stayed healthy, and my family was okay too. Homewatch CareGivers staff would bring supplies; whatever we needed to keep us safe. I was very grateful that even though we couldn't meet, we had all the essentials. The people who work in the office; you can talk to all of them. The nurses make themselves available so we can ask questions. When you have a problem, there is always someone who can help. They are consistently helpful, and the quality of training is wonderful. The workers in the office attend to our needs. It is a company with good workers. From the managerial level all the way down, people take time to listen to you. There is really good teamwork."

Janet loves what she does. She is always thinking about treating people the way she wants to be treated. She considers herself to be a very caring, sympathizing person. "Each day I try to do my best with my clients. In the back of my mind, I hope that this will be done for me in the future. My motto in caregiving is not to take this job for quick money. Caregiving must be something that comes from the heart. You must be a person who loves to care and share and spend time with people."

When Janet is not working, she attends to her family. Her daughter is in college studying to be an FBI agent. Her older son graduated from high school in 2021 and is working as an electrician. Her youngest son is in middle school. Janet says, "My hobbies are sleeping and going to church when I can. I am a family person. I spend time with and take care of my family. I love music, especially Jamaican music, gospel music and reggae. When I have free time, I also like to speak with family in Jamaica."