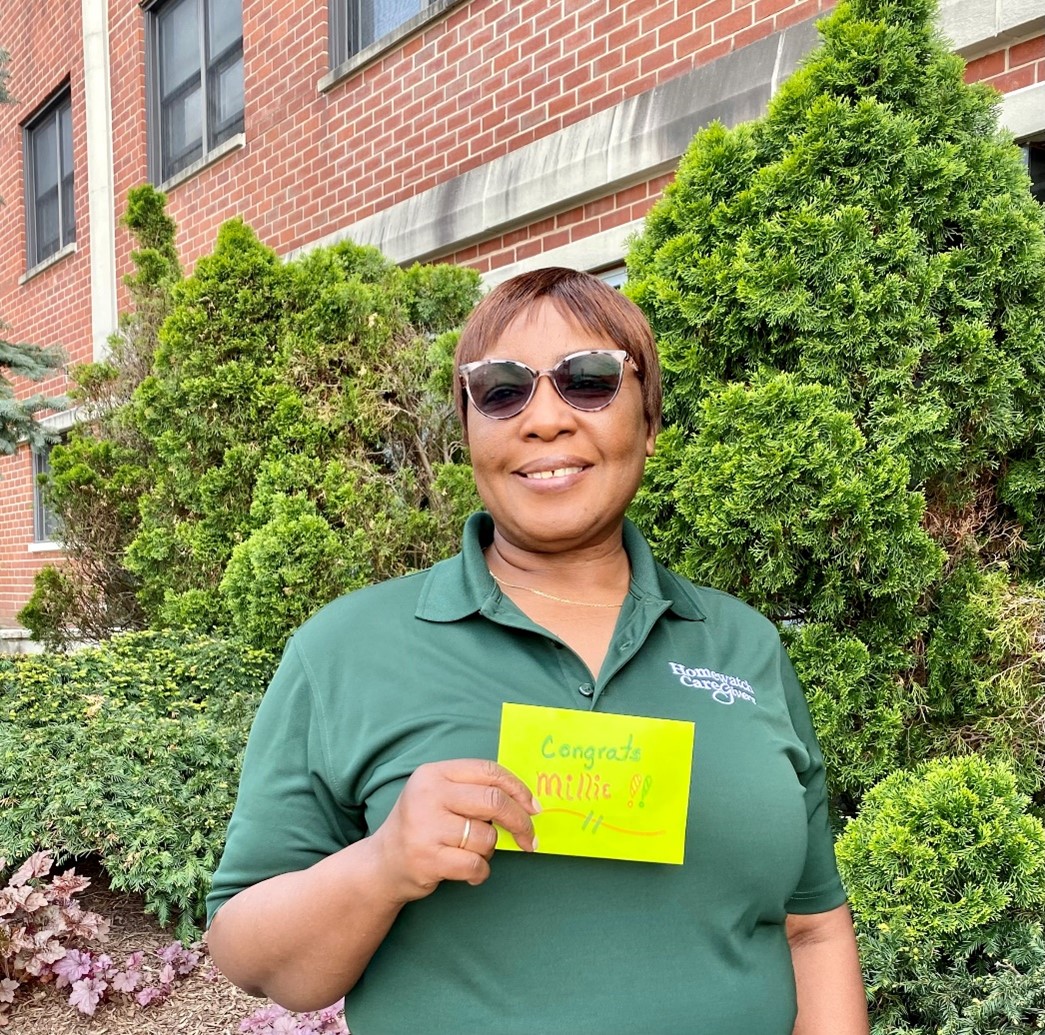 Millicent Baker-Rowe – Live-in Caregiver of the Month
"Thank you, Homewatch CareGivers for selecting me, and thank you to my client, Eugenia," was Millie's response when she learned that she had been selected as Caregiver of the Month. She has been with her present client in Caldwell for three years. Millie joined Homewatch CareGivers in March of 2019.
Millie was born in Jamaica. Periodically she would come to visit the US but in 2017 her daughter asked her to come live in NJ. "A friend told both of us about Homewatch CareGivers and my daughter started to work at Homewatch after me," she stated. Since she joined Homewatch CareGivers of South Orange, she has only worked for this agency because "they are like a family and care for us."
Millie began her caregiving services back in Jamaica where, as a Christian missionary, every week she would help people from the church who could not care for themselves. Her inspiration for her work as a CHHA comes from her faith and she is a leader at the church she attends in Orange.
Millie shared her thoughts about caring for the elderly: "I am always thinking about taking care of people to the best of my ability. My father is being looked after at home and I think about how I hope he is cared for. I treat people how I treat myself and my family. I want to be clean and nice so I make sure my client is too and she can enjoy it. I work hard at trying to understand my client." Millie describes herself as a quiet person who is easy to get along with. "I am an honest person. I am patient. I am compassionate. I like to cheer people up and encourage them. I like to see that the people around me are happy."
A message Millie would like to share with her fellow caregivers is, "when you sign up for a case, you have to do it very well. It is about taking the best care of people that you can. Some people come to work, and they don't think they have to do that. Taking this kind of work means you have signed a contract to care for someone. You need to do that job well so you will feel good at the end of the day."
Millie has family in NJ who she likes to get together with. Her grandson graduated from St. Peter's University. He is working in Morristown Hospital and then will be going to nursing school. In her free time, Millie also enjoys spending time with her daughter. "We go shopping when we have the same weekend off and spend Saturdays together. Sometimes we play cards, dominos, and other games together. I also like gospel music and watching family movies on TV."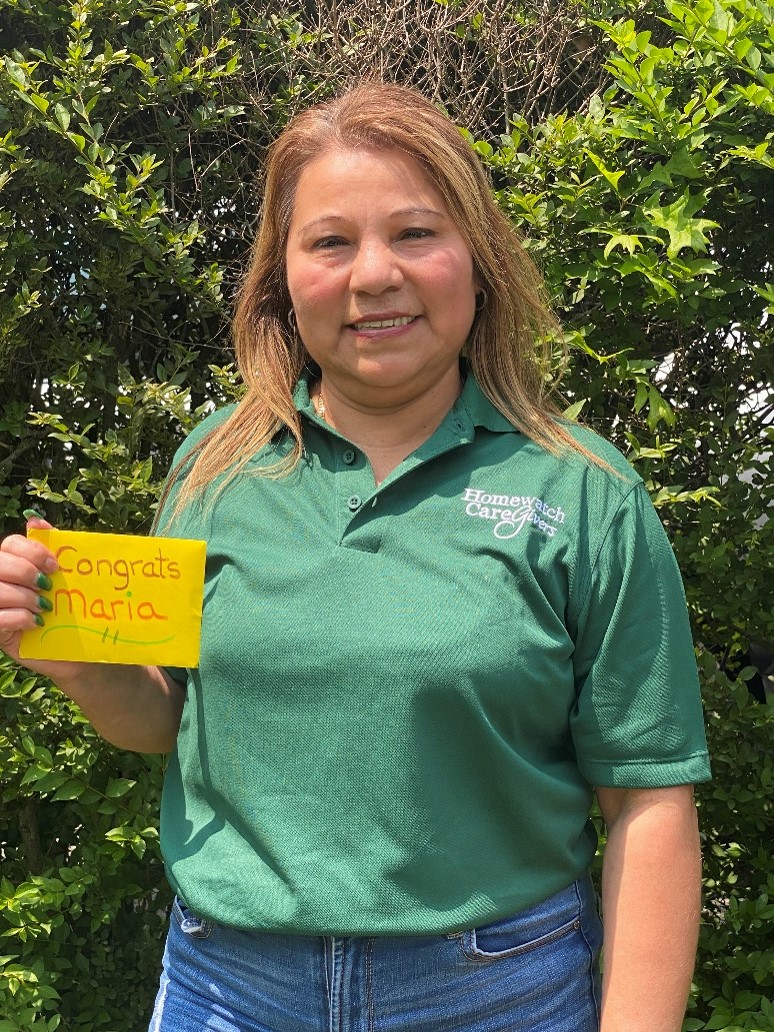 Maria Albeno Martinez – Hourly Caregiver of the Month
Maria was born in Guatemala and raised her children there. She studied to be a beautician and worked in that field until her family moved to the US in 2007. She arrived with her children and the youngest was born here. "When I came, I went to school to learn English and I got my CHHA license in 2018," Maria said.
Prior to joining Homewatch, Maria worked for a sports clothing factory full-time and was a part-time caregiver. During the pandemic, she lost her job at the factory, and she became a full-time caregiver. Maria joined Homewatch CareGivers of South Orange in August of 2022 and has been working with one client in West Orange since she joined the agency.
When told she was selected as Caregiver of the Month, Maria responded with an "Oh, wow! Thank you! I love taking care of older people. My dad and mom passed away and I feel the need to help others. I just have to do it. I would have liked someone to take care of them the way I care for my client. This is why I love the people I care for."
When not working, Maria likes to travel. She goes back to Guatemala when she can. She would like to travel to other countries too. On weekends, Maria takes care of her home and goes to church every Sunday. She likes to watch movies and especially enjoys visits with family on the weekends.