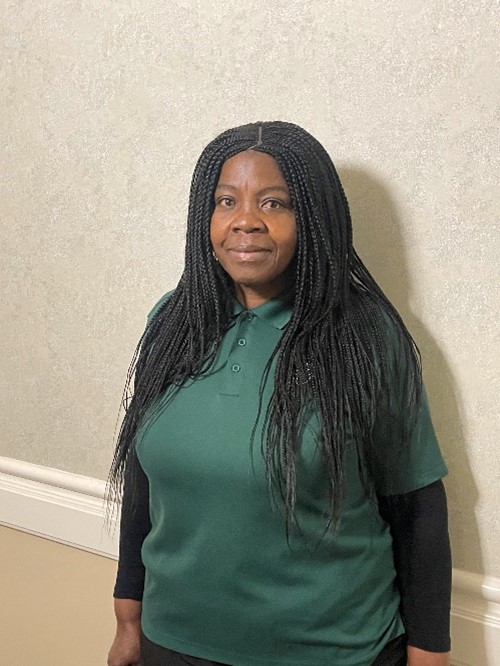 Dal Samuels – Hourly Caregiver of the Month, February 2023
Dal Samuels is our Caregiver of the Month for February. "I've been a caregiver for about 25-30 years and have been with Homewatch CareGivers for over three years," she explained. "In the past, I worked independently and for another agency. Homewatch is different because they always have jobs available. You can talk to the staff about anything! If you have a problem, they adjust the situation and everyone in the office is warm, jovial, and helpful."
Dal has cared for many different types of clients. "I've cared for individuals who require a Hoyer lift to move around, people living with dementia, individuals with broken hips, you name it, I've done it," she said. "I used to work as a live-in caregiver, but for the past three years I have worked from 8 a.m.-8 p.m. with the same client. I've cared for clients in Maplewood, Livingston, South Orange, West Orange, Caldwell, and Whippany."
When asked how she started to work as a certified home health aide, Dal remembers, "My mom passed away early, and I didn't have the opportunity to care for her, so I decided to do that for others. I feel passionate about caring for others as they age." Since Dal's parents passed away when she was young, she honors their memory by doing the best she can with her clients and that brings her great satisfaction. "I always think about my parents," she said. "It gives me a warm-hearted feeling." She looks at her job as a way of giving back. "I have a lot of patience as I would have had for my parents," she mentioned. "I would say it is important when I am doing this kind of job, to have patience coming from within, understanding that our clients might be different now than who they were before and trying to understand them. If a client has dementia and my coworker is not familiar with that situation, I will tell them to be flexible. It will make it a much easier time when things are good for the client."
Dal was born in Jamaica and came to the US to join her family in 1994. "Some of my family members lived in New Jersey, some in Maryland, Florida, Texas, I have a huge family! When I first came here, I lived in New York, but life was too fast-paced for me there. Too busy, too much noise. I like a quieter place."
When not working, Dal loves to play gospel music. "I am a gospel person," she stated. "I stay home and read my Bible. I like to serve God and the first thing I do in the morning is put on my gospel music. It's also the first thing I do when I get home each night. Unless there is an emergency and I must cover for one of my colleagues, I go to church every Sunday."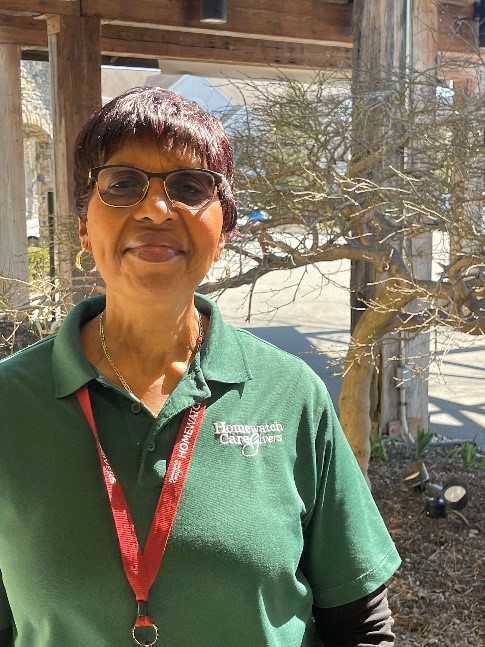 Mildred Hospedales - Live-In Caregiver of the Month, February 2023
Mildred Hospedales was born in Trinidad and Tabago. While living there, she worked for the Ministry of Agriculture, caring for the elderly. She decided to move to the US in 1979 because she wanted a better life for her children. She has been a caregiver in the US for over 30 years, starting in Manhattan and Long Island, taking care of babies and the elderly. A little over seven years ago, Mildred met Stacey, a Homewatch CareGivers nurse. Stacey suggested that she could work with Homewatch CareGivers and Mildred thought it was a good idea. She went to school and got her CHHA license and joined the company. Over the years, Mildred has worked with clients living with Parkinson's, dementia, post-accident paralysis, individuals who needed post-surgical care, and some who were bedridden. Her cases have been in West Caldwell, Verona, Caldwell, Montclair, and South Orange. She has provided long-term, live-in care for most of her clients.
Mildred explains, "I love taking care of the elderly. I think that comes from my mom and grandma. I was always drawn to this kind of activity, even at a very young age. If someone needed assistance, they would contact me. I would go and help – it is my calling. I love what I do." Mildred thinks patience and really listening to her clients are the most important qualities to be a good aide. "I strive to go beyond what I am supposed to do and whatever I have to do, I do it. That's the bottom line. Be patient with the client. Understand that your client can be disheartened if they can't do what they used to do. Understand what they are going through. Take a deep breath. We all have good moments and bad moments, so try to always be patient and kind. I think of how I would want my mom treated. That's what I think of when I am caring for my client."
Mildred has children in Jersey City and Orange. She is also blessed with seven grandchildren and 10 great-grandchildren. Mildred enjoys cooking, taking walks and sewing (especially quilts).
She shared her thoughts about working with Homewatch CareGivers of South Orange: "I love working with Homewatch. The staff is very caring, and they always try to help you get through every situation. I know I can always call on the nurses for advice."
Mildred shared that in her personal life, she enjoys praying. "I pray every morning to God to open the way and show me how to do the best I can. I am Catholic and I do a lot of praying."