We are excited to announce our February Caregivers of the Month!
The first caregiver we would like to recognize is Marilyn Drayton.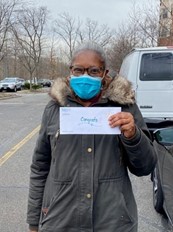 Congratulations to Marilyn on being named our hourly Caregiver of the Month.
Marilyn Drayton was born and raised in Orange, NJ. She has been working at Homewatch CareGivers for over seven years; most recently in Whippany and West Orange. Marilyn likes to stay with her clients and her clients like to stay with her. "We know each other and we get attached." One of her clients said to her, "Don't you ever leave me."

She began as a home health aide in 1998 and thought of it as "just a job, but once I got started, I fell in love with it. I realized this was actually the right job for me. I can't see myself doing anything else." Marilyn likes talking to and caring for people. "I want to be of help. I worked with children, but I prefer the elderly. They need more assistance, and they appreciate when they are cared for. I feel good just knowing I am helping."

"The past year with Covid was more okay than I thought. At one point I was scared. I told my clients I would be wearing my mask in their homes all the time. I felt very lucky Homewatch was looking out for us and went over and beyond to get us all the PPE we needed; delivered so we didn't need to run around. Supplying envelopes to mail back our paperwork made life so much easier. It was the nicest thing and I appreciated it. Homewatch continues to give me jobs that are right for me. "
Our second caregiver we would like to recognize is Roseline Wilson.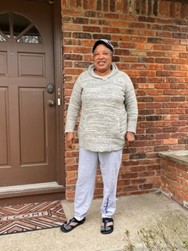 Congratulations to Roseline on being named our Live-in Caregiver of the Month.
Roseline Wilson from Irvington, has been living in Livingston with her present client since last March. Prior to that, Roseline worked with a few clients in Essex County and in Whippany.

She was born in Nigeria and grew up there to run her own personal business selling ethnic African clothing. When she came to this area, she realized that caring for people was something she was passionate about. "I loved my father and my mother, who were older, and I developed a passion for taking care of the elderly." Roseline became a home health aide and that is what she has been doing for almost 15 years.

"This year is my 3rd with Homewatch," explained Roseline. "My friend told me Homewatch was a good place to go for a job. When I got there, I was interviewed, and they sent me out to work the next day. They treat us so nicely. Our salaries are always on time. The people in the office are like family, even the boss."

Roseline finds her work so rewarding. "I treat my clients as I would want to treat my own parents and that is what I do for them. I love the people I work with. When I do things for my clients, they see what I do, and they appreciate it. At the end of the day, I love when my client says, Thank you for today."

During the past year, my client and I stayed home and stayed safe. We didn't invite people into the house. Homewatch called to check up on us. They brought us whatever we needed. They supported us. Now that we both got our shots we can go out. We like to sit outside in the backyard.