Each month we recognize some outstanding caregivers on our team for their compassionate work with clients. At Homewatch CareGivers of South Orange, we believe in honoring our staff when they make such a difference for elders and others in the community.
This month we are excited to recognize Simon Dumbard Jean Louis and Adeshola Oshinaike!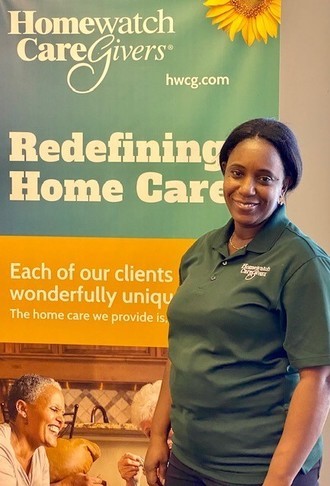 When Simone Dumbard Jean Louis was notified she had been selected as the Homewatch Hourly Caregiver of the month, she was astounded and laughed, "Really? That is such good news! Oh my God, this is unbelievable."

Simone has been working for Homewatch CareGivers for almost one year. Beforehand she worked for another agency, and she worked at a catering company where she assisted the chef preparing for weddings and parties. She knew she wanted to take care of the elderly. She explained, "When I came here, I needed to work to save money, go to school and get my CHHA license. Then, I could do what I wanted. I worked privately and for another agency until a friend told me, to "come to Homewatch because it is a good agency."

In 2013, Simone came from Haiti with her husband. "We have family here in NJ so that is why we made it our home." In Haiti, Simone worked in childcare and with the elderly. She explained, "When you work with a child or the elderly, you are helping them. They need it and I can give it. Talking and listening to them makes them happy and that gives me joy. What is important is that I am always on time, I respect my clients and their families. I make my clients feel better and that makes me feel better. I always try to do my best." Simone works nights and has had clients in Whippany, Livingston, Maplewood and Montclair.

Simone says, "It is my dream to make people happy. Thank you, thanks to everyone at Homewatch. God bless you all. It's so good to be part of the team."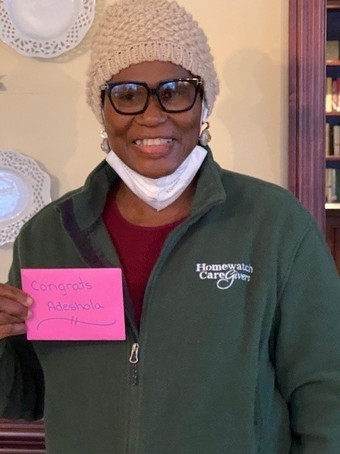 Adeshola Oshinaike was acknowledged as the "Live-in Caregiver of the Month" in January.

Adeshola Oshinake has been working as a Certified Home Health Aide since 1998. Before coming to Homewatch CareGivers, she worked with different agencies in the area and as an assistant manager in a group home for the developmentally disabled. She has been with Homewatch CareGivers almost 5 years, since 2017. She recalled, "A friend of a friend told me about Homewatch and I haven't ever regretted coming. Some of my old agencies still call me but I say "No, I am not leaving my agency. I am so happy with them." Adeshola feels appreciated and supported by the staff at Homewatch. She explained, "The staff is different. They listen to you, if you have any problems or concerns. All the staff are nice, and they work to help with any issues. They get back to you and take care of their aides. They pay for my insurance and my holidays. I love everybody from the Director, the nurses, everybody. And they always get good cases."

She has worked with many clients over the years, live-in clients and fill-ins in Whippany, Maplewood, South Orange, Union, Morristown, and Livingston. Adeshola shared, "My clients and their families have been so nice, and they all like me. Some of their families still call me and appreciate me. I never expected that. I know in my mind I am doing a great job. I keep on taking care of my client. I never give up on them."

Adeshola gets her inspiration from the knowledge that she arranged to have someone care for her mother who is living in Nigeria and going to be 93. Her mom doesn't want to come here because of the weather. Ade feels you must have a passion for this kind of work to be successful. About her work, she says, "I go the extra mile. I have one lady who works in the building I am in now. She tells me, "You are the best. You are good. She tells my client's family, "She takes good care of your mother. She greets everybody, she takes so much care." If her client families show they are satisfied with her, that makes Adeshola feel so good. She explains, "When I take care of my client it is like I am taking care of my mom or father, or uncle and I know one day I will be in that position. I hope someone will do the same for me. I must do the job very well. I am representing my agency when I work with the client."

Adeshola came to the US with her family, from Nigeria, in 1997. Before coming to the US, Adeshola worked as a customs officer at the seaport and airport. She traveled with her family to Europe and the US on holidays, before moving here. She explained, "We have friends and some of my siblings in NJ and NY. I love the big city with all the shops and entertainment. I just love the Big Apple. You will always find people from Nigeria in NY."

"Wow, and Thank You to Everyone!!," was Adeshola's reaction when she learned she had been selected as the Live-In Caregiver of the Month.