Each month we recognize some outstanding caregivers on our team for their compassionate work with clients. At Homewatch CareGivers of South Orange, we believe in honoring our staff when they make such a difference for elders and others in the community.
This month we are excited to recognize Thelma Harris and Rachel Walter!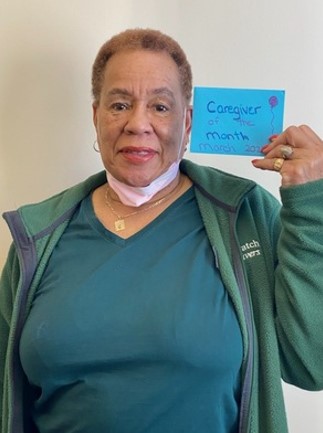 When Thelma was notified she was selected as the Caregiver of the Month, her reply was "What? Really? What?"- all with a laughing lilt in her voice.
Thelma Harris didn't start her career as a certified home health aide. She began as a caregiver only after she retired from years of employment working quality control at NJ pharmaceutical companies and at Western Electric assembling telephones. Originally from North Carolina, Thelma married after high school, and moved up to NJ where her husband had family. Her mom also moved north and lived nearby in East Orange till 2020 when she passed at the age of 105. Thelma was there to spend time with and care for her Mom.
"Once I retired, I didn't want to sit home and do nothing. I started with another home health agency and then someone who worked at Homewatch CareGivers recommended I come there. I've been a CHHA for ten years and with Homewatch CareGivers for four," explained Thelma. She added, "Homewatch CareGivers is like a family. Everybody is so nice. I enjoy coming to the office. Anything they can do to help you; they will do it."
Thelma has done hourly work for clients with dementia, in need of personal care and companionship. Her clients have mostly been in Montclair, Livingston, Bloomfield, and West Orange. She explains, "I really enjoy working with people. I do all I can to make them comfortable and happy. Personality and my sense of humor help me through my work. I have the sense I'm doing good, not just good, but I do the best I can to help anybody."
Though Thelma hasn't taken much time off from work, she likes to talk to family members and sometimes run down to Atlantic City for the day, but Covid changed everything. It was hard working during Covid, but we did it and we made it through.
When asked what she would share with other caregivers her answer was, "Come to Homewatch CareGivers the #1 agency. If you want to enjoy your job, Homewatch CareGivers is rated #1. There is always someone to help you, show you, tell you. Eneika, Shirley and Crystal are so helpful, and the nurses are wonderful, guiding us.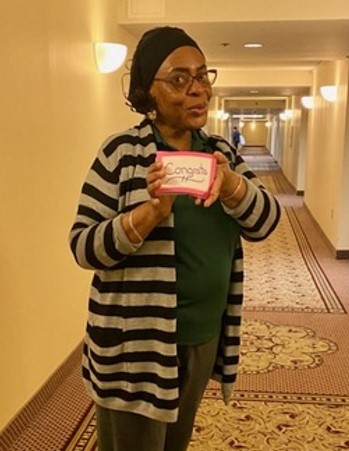 Rachel Walter was acknowledged as the "Live-in Caregiver of the Month" in March.

Rachel was a caregiver back in her country, The Nature Island of the Commonwealth of Dominica. "At the young age of 22 I took care of my adopted mother, my father, my husband's father, and another adopted mother. I've cared for so many family members; it's what I do."

Rachel came to this country about 30 years ago and made her home in NJ because she had a daughter here. She has been with Homewatch CareGivers since 2014, working with long time clients (over 2 ½ years each) in West Caldwell, Whippany and now in West Orange. She builds very close relationships with her clients and when she takes time off, she worries, especially about those with dementia. When she does take time off, she makes appointments for her own personal well-being. Rachel meets with her good friends and kids. Rachel also enjoys caring for her home, which she calls her "castle".

Rachel was thrilled to be selected as Caregiver of the month. Her inspiration to do her job well is her joy and pleasure working with elderly people. She enjoys taking care of them, making sure they are well-fed, and all their needs are being met. "It's important they feel cared for and respected. They deserve that since they had a part in shaping the world. When you care for them, they appreciate it and they give love, respect, and thanks back, which motivates me to continue to work hard on their behalf," explained Rachel.

"My sense of humor helps me daily and my good, loving heart is a big part of me. It is so wonderful to work with HW because the staff is great. It is my best job and I cherish every moment with Homewatch CareGivers clients and excellent staff. My message to my fellow caregivers is to be patient and diligent. Later on, you will reap the harvest of all you do for others."