Each month we recognize some outstanding caregivers on our team for their compassionate work with clients. At Homewatch CareGivers of South Orange, we believe in honoring our staff when they make such a difference for elders and others in the community.
This month we are excited to recognize Diana Barnes and Alverie Thompson-Moran!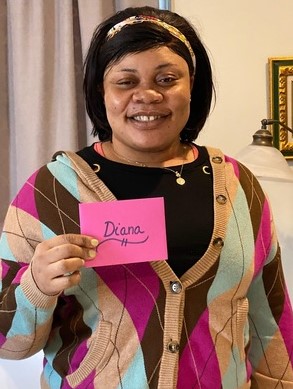 Diana Barnes is so thankful that she was selected as caregiver of the month. All she could say was, "Thank you."

Diana was born in Kumasi, Ghana and came to this country in 2018 to join her husband. She was a police officer in Ghana for 12 years and left her position as sergeant. She chose being a police officer because she wanted the world to be a better and safer place for her family. When she was in police service, she worked with the family unit which dealt with family issues so work in the humanitarian sector seemed a good fit when she came here.

Diana has been a CHHA for four years and has been with Homewatch CareGivers one year. She works for the Veteran's Administration and through a shared client, Diana met Nurse Debbie who suggested she contact the agency for additional work. Diana has been successful with clients in South Orange, Maplewood, and Short Hills. She attributes her ability to work well with her clients to her patience and her love for them, who she treats like family. She explained, "I love taking care of people. I know that our clients may be having a bad day and sometimes they can be difficult, but I don't get angry. I don't take it to heart. I say sweet things to them and encourage them. I tell them it's okay and they get past what they think they cannot do. I find the things that will make them happy and will make them do what is good for them. I want them to feel happy in their home and I make sure they like it there." Diana also stressed that she is not on her phone during the day unless it's a call from her daughter. This way she is giving her full attention to her client.

"I have a calling from god," explains Diana. "I treat my clients as if they are my mom or dad." She even went to visit a client in the hospital who she no longer works with because she wanted him to know she was thinking of him."

Diana still has her mom and siblings back in Ghana. "We grew up with a culture of respecting your elders. That is what we do over there, and I am a parent from Ghana." When asked what she likes to do in her free time, Diana responded that she likes to stay home with her daughter and husband. "I love being with my daughter. I want a good life for my family."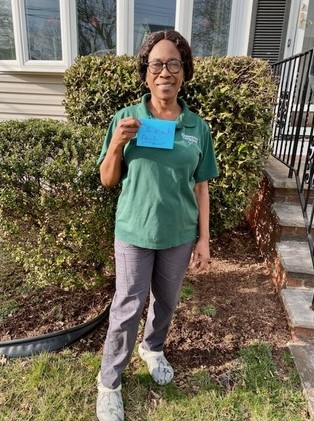 Alverie Thompson-Moran was acknowledged as the "Live-in Caregiver of the Month" in February.

Alverie was a bit shocked at the news of being selected caregiver of the month and she responded with laughter and thanks for the honor. Before coming to Homewatch CareGivers, Alverie worked with one patient privately for four years, but then a friend introduced her to the agency, where she has been working for over a year. At the beginning she did fill-in care and worked with clients in Livingston, West Orange and Glenridge. For the past few months, she has a case in Clifton.

Born in Jamaica, Alverie came to the US in 2014. She was a businesswoman, self-employed with two stores: one for men's clothing and the other selling household goods. She traveled the world buying things for her stores. Then Alverie decided she wanted to start a new life. She had friends in NJ, a son in CT, another in NJ, one in Miami and she still has two children in Jamaica.

Before coming to the US, Alverie did home care in Cayman, and decided, "This is what I love to do. When you love what you do, you do it well. I remembered that when my mom took sick, I was the one to take care of her. I dedicated my life to caring for my stepfather and mother. I am a family person. I like to help. I like to make people comfortable." Alverie says her success comes from these three main concepts; "I stay, I take my time, and I try to make life good for me and my client. We never know exactly what the client is going through. We need to be humble, patient and have endurance. It is also good to be a keen listener. Try to understand your client, try not to get angry with them and try to keep the home calm." Alverie also manages to develop nice relationships with the families of her clients, even during a short stay.

As Alvierie shared, "We don't know what will happen to us. We hope someday, someone will take good care of us." While Alverie is a live-in caregiver, she takes off every other weekend. "I like to go to church. Otherwise, I like to stay home, and I enjoy talking to my friends on the phone. I also love listening to music with my grandson."