Althia Hyatt – Live-In Caregiver of the Month – October 2022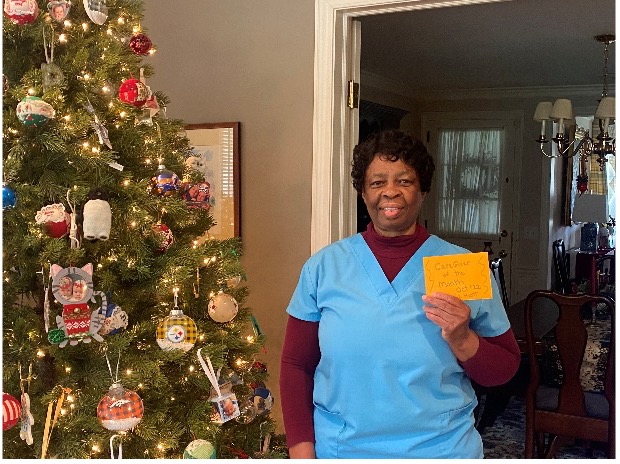 Althia Hyatt responded with a hearty, "Oh my, thank you and thank the office!" when she learned she had been selected as Caregiver of the Month. "I appreciate being selected. I was happy today, but that makes me even happier."
 
Althia was born in Jamaica and came to this country in 2006. Before becoming a caregiver, she lived in Ohio and was trained to make electrical parts which she did from 2012 to 2014.  She moved to New Jersey in 2016 and realized she wanted to work as a caregiver. As a result, Althia took a CHHA course in July of 2017 and has been a caregiver ever since. "I used to love to take care of the elderly before I became a caregiver," she commented. "I took care of my mother-in-law, and that experience made me realize caregiving is a good profession for me. First, I worked with Visiting Angels and then someone mentioned Homewatch CareGivers to me. I came in for an interview and it was great. The company appreciates their workers. If I don't understand something, they show me step-by-step, until I do. I can talk to the nurses easily. They see the same patients I work with, and we collaborate very well. I recommend Homewatch CareGivers as a good place to work whenever I can."

Althia has strong feelings about working as a caregiver. "Working in this field you must love what you do," she explained. "When you go to a client, you need to understand them. You are there to learn. I keep learning more and more every day. You must respect the client and treat them as if they are your mother, your family." 

In her free time, Althia likes to read, dine out and have fun. She hasn't been to Jamaica since 2020 but looks forward to visiting her home country again when she can. She misses her daughter and granddaughter who live there. Althia also has family (a son and grandchildren) in Maryland.