Each month we recognize some outstanding caregivers on our team for their compassionate work with clients. At Homewatch CareGivers of South Orange, we believe in honoring our staff when they make such a difference for elders and others in the community.
This month we are excited to recognize Trudell Loyal and Carlin Campbell-Moulton!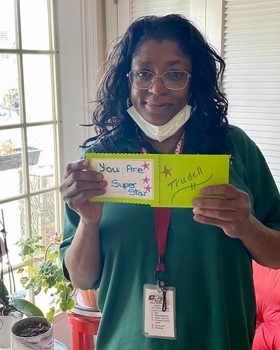 "WhooWhooWhoo" was Trudell's response when she learned she was selected as the Hourly Caregiver of the month. "Thank you so much. I am giving kisses to everyone in the office. I'm going to celebrate with special chicken," she laughed. And that makes lots of sense since one of the things Trudell loves to do in her free time is to experiment with all kinds of cooking, which her family really loves. She also likes to watch movies.

Trudell has been a CHHA since 1994. Before that she and her mom worked together at Frigidaire, building refrigerators and air conditioners. Then someone mentioned she should try homecare. She attributes her coming to Homewatch CareGivers to Shirley Baldwin-Florze who she has been close with since childhood. Shirley kept telling her about Homewatch CareGivers.

She began with Homewatch CareGivers in 2015 and had many types of clients over the years; some with dementia, Alzheimer's, some needing companionship, and some were very challenging. "My clients have been in Montclair, Verona, Livingston, Short Hills, South Orange. I've been around," explained Trudell. She needed to take off time when Covid caused the closure of her son's school. Covid also hit her family hard, losing her father in April 2020 so she spent time helping her Mom.

The quality that Trudell believes is most important to doing a good job is communication. She explained, "You must have patience and not get upset easily. I like to make people feel comfortable right away. I am straight with my clients and their family members. Communication is key to involvement with them too. It puts their minds at ease knowing I am here for their parent." She is inspired by seeing life in people. She likes to make people feel comfortable and see them happy. "Their smile is my inspiration."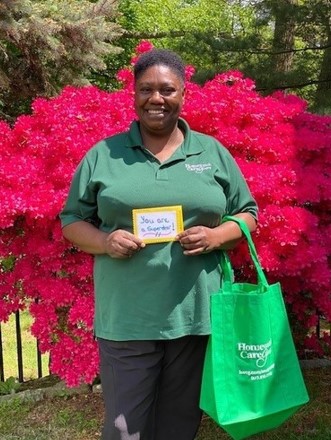 Carlin Campbell-Moulton was acknowledged as the "Live-in Caregiver of the Month" in April.
Before becoming a caregiver, Carlin worked as a chef in a restaurant in Jamaica. "I love to cook, and my client and family love to see my food presentation and experience the aroma of the food I prepare. It's an extra bonus." Carlin has been with Homewatch CareGivers five years, but she has been a caregiver for over 30 years. When her grandmother was diagnosed with cancer, she went home to care for her. She realized then that she would continue to do this type of work. She took care of others and each time she finished with a client, their family members told her she "must go to school and continue do this job." Each time she finished working with one family, another family wanted her services. When she came to this country, she became a CNA and then a CHHA in 2013. She has experience with cancer, emphysema and dementia patients.
"I love what I do; I love taking care of the elderly. The nurses assigned to my clients see that and appreciate what I am doing with my client." Carlin's inspiration is her belief in the importance of the job. "Sometimes it can be hard, sometimes you don't get enough sleep, but the care and safety of my clients is the most important thing. They always get love and patience from me," explains Carlin. Her advice to others in the field is, "Whatever you are doing, do with all your might, be nice, be kind, be humble, be loving, do your best and that will please God."
When Carlin goes home, she takes care of her family, and she goes to Church. She also watches her religious services online when she can't get there. This sustains her.