Each month we recognize some outstanding caregivers on our team for their compassionate work with clients. At Homewatch CareGivers of South Orange, we believe in honoring our staff when they make such a difference for elders and others in the community.
This month we are excited to recognize Victoria Oppong and Mera Hanson McQueen!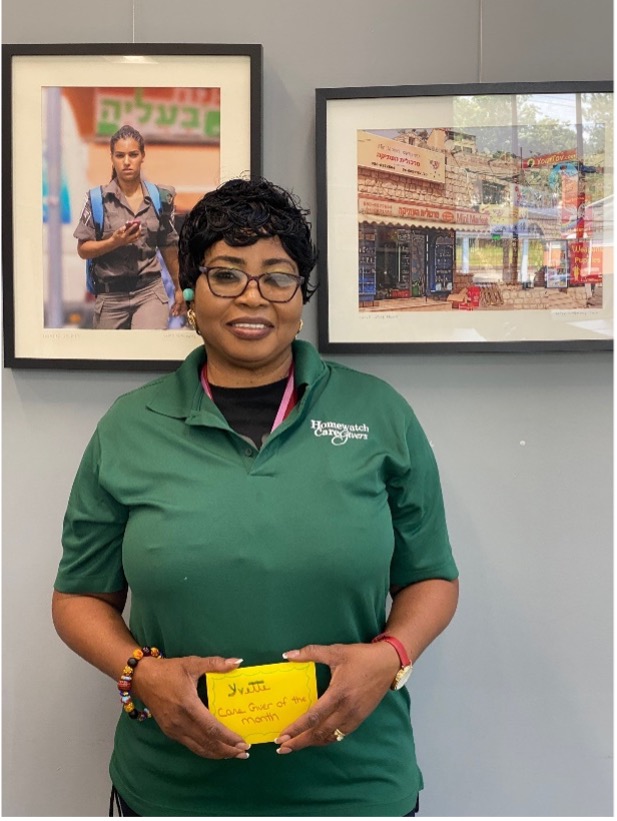 Victoria Oppong always brings a smile to our faces with her infectious laughter and true kindness. She earned "Hourly Caregiver of the Month" in May and her response was, "Oh my, how wonderful!" followed by lots of laughter and then she exclaimed, "Really? You made my day!"
Victoria has been a CHHA for over ten years, "Since I came to this country from Ghana. My husband came here first. When I was in Ghana I worked in a doctor's office and took care of my grandparents. My Grandfather died first at the age of 95 and my grandmother was 85. My mother and siblings are still in Ghana. We used to go every year after school break but since the pandemic we haven't been."
She joined Homewatch CareGivers one year ago and has done dementia care and worked with people who are living with Alzheimer's disease, people who have mobility issues, those who are living with Parkinson's, and day-to-day senior care. Victoria recalls, "I received a text message about an available position with Homewatch CareGivers and came in for an interview. The following week I returned for orientation and got a job right away. It didn't take too long till I got a permanent case in Verona." She has done fill-in work in Livingston, West Orange, Maplewood, Florham Park, and West Caldwell. Now she has a permanent case in Winchester Gardens in Maplewood.
Victoria worked at other agencies before coming to Homewatch CareGivers of South Orange. What stands out for her is that she is always paid on time and can opt in for benefits like an IRA.
Victoria always says, "I am doing this job from my heart, I listen, I give my clients privacy, whatever they want and need. I will let them be if it is okay for them. I give them as much independence as possible and I encourage them. I have patience. I know I have the knowledge ability and patience to help them." She explained that the job "requires patience, you don't tell them no; you have to encourage them and you always need to be observant, so you recognize changes, because things are always changing. In that case, you should call the office and notify them."
When she has free time, Victoria likes to take her 12-year-old out to the park, and to see friends. They watch movies together and on Sundays Victoria goes to church. She says that her faith has been an inspiration in her life.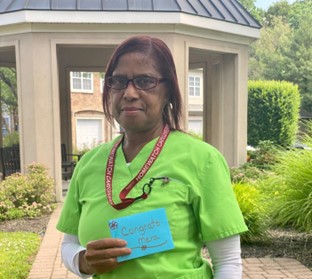 Mera Hanson McQueen was acknowledged as the "Live-in Caregiver of the Month" in May.
At first, Mera welcomed the notification that she was selected Caregiver of the Month with a bit of laughter, but she followed that with wanting to understand how a person is selected. She thought a moment and then said, "Thank you, it is good to be remembered."
Before being interviewed, Mera asked if she could say a few words. "First and foremost, let me give thanks to God for giving me the privilege to work with Homewatch CareGivers for a period of six years until the present. Before, I worked in Jamaica in the Ministry of Transport and Works as an accountant, for over 25 years. I loved my job and did well with figures. I made a decision here in the U.S. that healthcare was the best place to be, where jobs will always be available, and I was so right about this decision. While I attended my first orientation at Homewatch CareGivers, I was called to the office in the midst of the session, which made me wonder what was going on. I was amazed that I was offered a job that same day, and that was a white flag for me. Homewatch CareGivers is like a family; belonging, with a shared sense of commitment. I have been offered several jobs on the spot, even private cases, but this is where I want to be."
Mera describes herself in this way, "I am a Jamaica girl who loves to see and make people happy. If my clients are happy, I am happy too. I love to see when my clients eat if they are able to. I love to interact with them, playing games, talking about old times, singing, dancing, listening, etc. I have worked with so many hospice clients. The experiences I have had with them I would not trade for anything else. They made me stronger, kinder, more grateful, and these attributes will apply to my everyday living for the rest of my life."
Mera was a private aide for eight years before coming to Homewatch CareGivers. She found us online when she was seeking a new position and didn't like what other agencies were offering. She explained, "I was drawn to Homewatch CareGivers of South Orange because the person, I think it was Eneika, who answered was so kind and right away I made an appointment. The people in the office were so efficient and so friendly. I was drawn to them." She has done care for people who are living with dementia, Parkinson's, who recently had a surgery, as well as hospice care and live-in care. Three of her cases lasted more than a year, each. These cases have been in Whippany, Livingston, Short Hills, Verona, Caldwell, West Caldwell, Maplewood, West Orange, and South Orange.
"What I like is being allowed to evaluate the case if you can manage it and make a decision," she says. Mera explains that she has never gone to a client she could not manage. She was taught, "if you listen to us, and you are able, you cannot go wrong. Her message to all her fellow caregivers is to "Be kind, Be grateful, Be patient, all clients are different. Let us focus on the purpose that we are called for, pay attention to every detail, be creative and offer help in whatever way you can. We do not always get exactly what we want but we can work with what we have, and we can be amazed at what we can do with that decision. Don't put yourself into a box."
Covid was a time of learning. Mera said, "I must give God thanks. Some younger and some older people I know passed and I am still here. We need to show more love. We never know when it is our time."
When she has time off, Mera likes to take care of appointments and at night she loves to read which is a big part of her life. There are also certain TV programs she enjoys. Family matters a lot to Mera and she stays in contact with loved ones in Jamaica and sees relatives in the U.S. as often as she can.